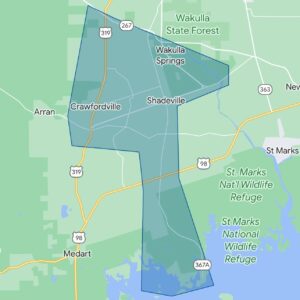 In an effort to keep the lines of communication open with Talquin Members regarding the discoloration of water in areas of the Wakulla Regional Water System, we would like to provide the latest updates pertaining to our ongoing efforts to improve the overall water quality.
As of today, February 8th, 2023, the water is running clear from our wells into the system, which has been the case for several days now. In order to address any residual discoloration in your home systems, please make sure to run water from an outside spigot or bathtub faucet to assure that water has been flushed before operating appliances. When flushing your home systems, you are not required to run extensive amounts of water from these sources. For a standard Residential household filling a large 40 gallon bathtub twice over, the cost would be less than $0.21. Likewise, this same 80 gallons of water will not have a significant impact on the sewer cap.
If you are finding that your home systems water is not running clear after a couple of attempts, we ask that you please contact Talquin Member Services at (850) 627-7651 during normal business hours. By reporting the residual discoloration to Talquin directly, we are able to respond to the issue in a timely manner and clear the water faster.
We appreciate your patience as we continue to seek solutions to assure the water remains clear.