| News
QUINCY, Florida – February 27, 2023 – Talquin Electric Cooperative, Inc. ("Talquin"), a Member-owned, not-for-profit electric cooperative, selected twenty-four high school juniors from Gadsden, Leon, Liberty, and Wakulla Counties to participate in the Talquin Youth Tour in February. Each student who participated in the Youth Tour received a scholarship for college or post-secondary education and was provided with a visit to Florida's state capitol for a two-day, overnight conference. Students were selected from Talquin's Membership based on criteria including academics, leadership, communication skills, and volunteer service within their schools and communities.
"I'd like to extend a big congratulations to each student chosen to participate in the Talquin Youth Tour Program," said Tracy Bensley, General Manager of Talquin. "These future leaders are all great representatives of their schools, Talquin, and the state of Florida."
From this outstanding group of leaders, four student delegates and two alternates received a $1,000 scholarship. These delegates will also represent Talquin at the National Rural Electric Association's Youth Tour in Washington, D.C. this June where they will meet with approximately 2,000 students from all over the United States, visit historic landmarks, and continue to learn about cooperatives and government. The national delegates are Madelyn Ellis, homeschool; Eryn Files, Florida State University School; Caitlin Hall, Wakulla High School; and Legion Taylor, Wakulla High School. The alternates are Carter Christensen, Wakulla Christian School; and Kaitlyn Guyer, Maclay School.
Talquin also selected eighteen students who received a $500 scholarship and represented their schools in the 2023 Talquin Youth Tour. These students are Aubrie Arnold, Samuel Burns, Nathan Carpenter, Savannah Smith, Shelby Smith, and Tanner McSpaddin, Liberty County High School; Donovan Graven, Katie Chapman, and Maya Littles, North Florida Christian School; Brinkley Snow and Wyatt Thomas, Maclay School; Ja'Nyda Maynor, Gadsden County High School; Elayjah Howard, Amos P. Godby High School; Ella Grace Straughn, Grace Christian Academy; Naomi Buchanan, Lincoln High School; William Crumpacker, Saint John Paul II Catholic School; Joshua Bissell, Wakulla Christian School; and Christopher Peak, Wakulla High School.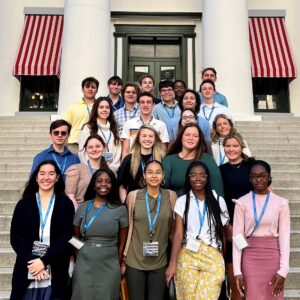 Pictured above, left to right; Front row: Kaitlyn Guyer, Elayjah Howard, Naomi Buchanan, Ja'Nyda Maynor, Eryn Files; Second row: Legion Taylor, Caitlin Hall, Ella Grace Straughn, Shelby Smith, Savannah Smith; Third row: Madelyn Ellis, Aubrie Arnold; Fourth row: Katie Chapman, Joshua Bissell, Tanner McSpaddin; Fifth row: Samuel Burns, William Crumpacker, Carter Christensen, Christopher Peak; Sixth row: Wyatt Thomas, Donovan Graven, Maya Littles, Brinkley Snow. (Not pictured: Nathan Carpenter.)