| News
The three solar projects, Hilliardville, Hinson and Bristol, total approximately 7 MWAC
TALLAHASSEE, Fla., Oct. 5, 2023 — Members of Talquin Electric Cooperative are now getting the clean, cost-effective energy benefits from 7 MWAC of solar energy, enough electricity to power approximately 1,400 homes. Officials from the cooperative, along with Seminole Electric Cooperative, Origis Energy and local community leaders dedicated the three new solar facilities this week.
The projects are Hinson Solar, a 4 MWAC project, located in Gadsden County, FL; Hilliardville Solar, a 2 MWAC project, located in Wakulla County; and Bristol Solar, with a capacity rating of 0.63 MWAC, located in Liberty County.
All three projects were developed, constructed and are owned by Origis Energy. Each will deliver clean energy at competitive rates under Power Purchase Agreements (PPAs) executed between Seminole Electric Cooperative, Talquin's wholesale power provider, and Origis.
"These three projects represent a significant step forward and we are excited to provide predictable, affordable, clean electricity to our Members," said Tracy Bensley, General Manager of Talquin Electric Cooperative. "Bringing these projects to fruition will generate enough clean energy to replace fossil fuel-generated electricity for up to 1,400 homes in our area while ensuring stable rates for our Members and shielding them from the fluctuations of traditional fuel costs."
During construction, each plant employed approximately 30 workers with a combined direct local economic benefit of an estimated $1.6 million. Over the lifetime of the plants, they will generate an additional estimated $2.2 million in direct economic benefits combined.
"I am proud to be here today on behalf of Seminole to celebrate Talquin's solar site dedications," said Lisa Johnson, CEO and General Manager of Seminole Electric. "Seminole is excited to support Talquin's initiative to bring more solar energy to its consumer-members."
At each location, native grasses and plants that will provide berries for wildlife were used as part of the vegetative buffer.
"We are pleased to provide affordable, renewable energy to the homes and businesses of Talquin Members," said Josh Teigiser, Managing Director of Distributed Power for Origis Energy. "It's been a pleasure working with both Talquin and Seminole to get these projects energized, and we look forward to providing their Members with reliable, clean power for years to come."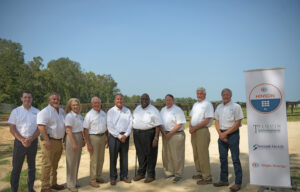 Left to Right: Jason O'Steen, Dr. Gregory Winter, Carla Pararo, Sam Fenn, Board of Trustees; Tracy Bensley, General Manager of Talquin Electric Cooperative, Inc.; Joseph Alexander, Board of Trustee President; David Miller, Clifford Bristol, Billy VanLandingham, Board of Trustees.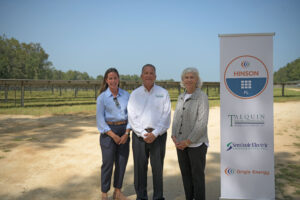 Left to Right: Christine Valcourt of Origis Energy; Tracy Bensley, General Manager of Talquin Electric Cooperative, Inc.;  Lisa Johnson, Chief Executive Officer and General Manager of Seminole Electric Cooperative.